River Dell Golden Hawks varsity football team falls to Parsippany Hills in the 2022 regular-season opener
Image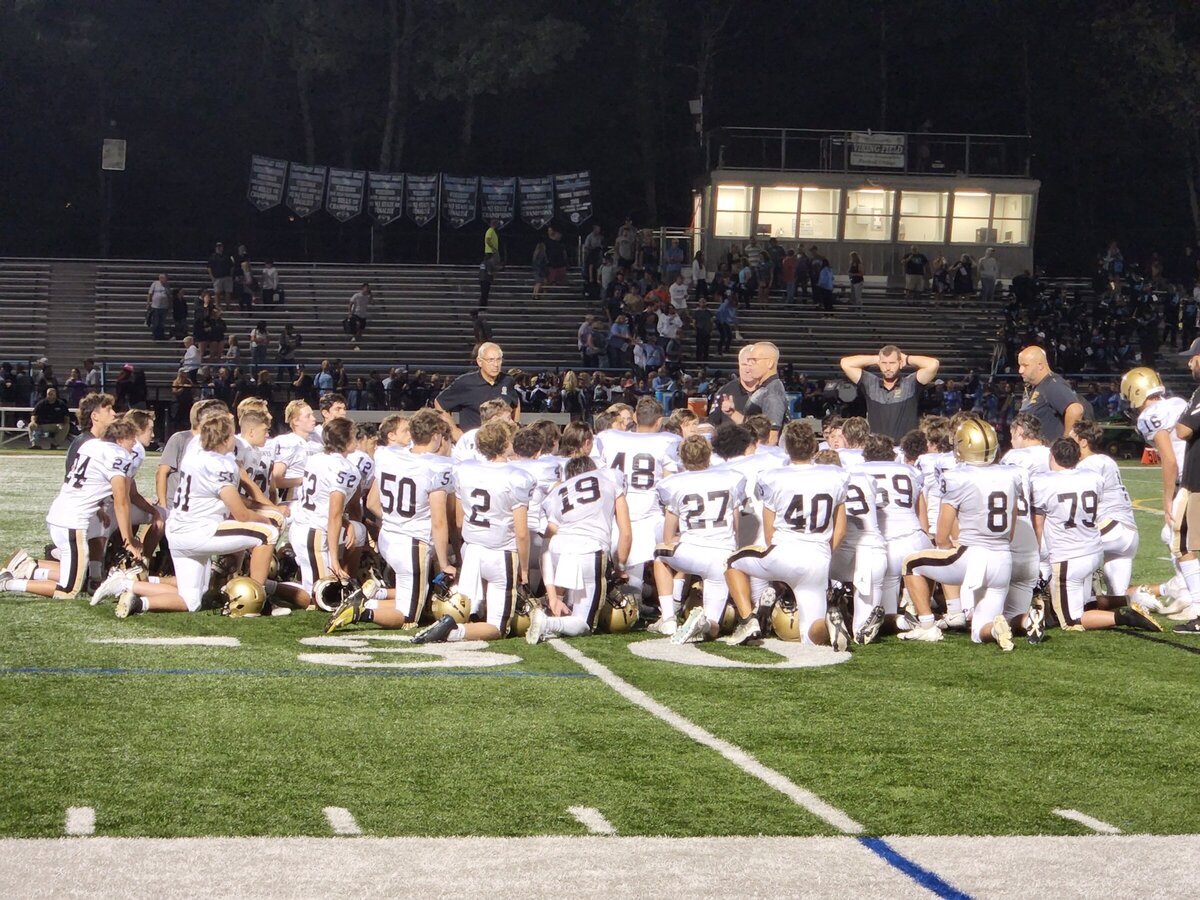 The River Dell Golden Hawks varsity football team kicked off the 2022 regular season against Parsippany Hills at Parsippany Hills High School.
A couple of days before the game, senior quarterback/captain Jake Sconza, senior running back/defensive back/captain Max Froonjian, and senior linebacker Nick Sybel to reflect on the 2021 season and provide an assessment of the 2022 team.
The Golden Hawks finished the 2021 campaign with an 8-3 record, undefeated in the Super Football Conference American White Division (5-0), and reached the second round of the North 2 Section, Group 3 state playoffs, where the team lost to Sparta 49-0 at River Dell High School.
River Dell was facing a difficult start to the 2022 season with the first three games on the road starting with at Parsippany Hills, followed by Bergenfield and Westwood.
Jake Sconza- Every day I go into practice remembering that game and the way I played individually, and the team wasn't into it. I don't want to lose like that ever again, and I want to win every game. I feel like this year, we have a tight group of guys, some younger guys and experienced guys that will come up for us.
It always hurts losing knowledgeable guys on the perimeter. You always lose power when you're graduating that many guys on the offensive line who were stronger up front. It's good to have one guy back in Ren(Yoshikubo) who knows what it's like to be on the line in a varsity game.
It was fantastic week after week, and I wanted to be a playmaker out there and make plays for the guys and get everyone on the board. I love the number four and remember when I was a freshman, and Mike Sirico had that number and took me under his wing. I still talk to him to this day, and he loves the fact that I'm wearing number four. It's cool seeing the history and the numbers putting the jersey on and once in a lifetime opportunity.
The sophomores and juniors are the first people I want to go up to and make sure they are not nervous before the game and are in a good mindset and prepared. I want to tell them that once you are out there, you are just playing football with your best friends.
Max Froonjian- We have a lot of guys working and helping each other out. We have a lot of seniors, a lot of sophomores, and a couple of juniors. We have a lot of older guys who know a lot of stuff and can help the younger guys.
Jake(Sconza) brings a lot to the table daily, teaching everyone the offense. We learn something new every day, go out there, and have a good time. We're looking to get better and find a new way to get guys the ball at the end of the day and be the best you can at every position.
It means a lot being a captain, especially with Jake(Sconza), too, and we got to take on our role as leaders and keep doing what we do.
Nick Sybel-Last year was crazy; I knew going in I would get some playing time, but during the first game, Will(Fletcher) hurt his collarbone, and that started my journey, and I haven't gone off the field since then. That team meant a lot to me a great group of guys and very enthusiastic about the game. It didn't end the way we wanted, but we had a good run, and I will miss those guys.
A few weeks after we lost, we were already back in the weight room and pushing the envelope of lifting and working hard. It was a tough off-season, and some people quit, but most of the guys stayed and endured it. You learn life lessons when you do this stuff.
Coach (DJ Nimphius) pushes us to work hard and emphasizes that. You'll get some playing time if you show up every day and do your job. He's the best coach I have ever seen in my life, and I think that everyone at River Dell who has passed through him will never meet a better coach than him.
We have a young team, some of the kids they're going to play a varsity game before a JV snap, and that's going to be crazy and going to be nervous and scared, but once that first whistle first whistle blows, it's going to go all away and just going to have to lock in. The seniors will help them out, prepare and get them better.
Our first three games are on the road, which will be challenging, but we have been pushing that all year with our scrimmages. We must be ready for that 40-minute bus ride to Parsippany Hills, and we played them last year, and they're familiar with us.
I can't wait to play at home for the first time and new track. It's just a different energy when you have your entire student section home and whole community there and little kids cheering you. The actual fuel is from the guys on the sidelines and your parents and hearing them screaming your name and number.
On a magnificent summer night with the sun setting early, crystal-clear skies, and cool temperatures at Parsippany Hills High School, the River Dell Golden Hawks varsity football team sprinted out onto the field with tons of energy and passion.
River Dell received the opening kickoff but could not move the ball down the field, resulting in a punt. On Parsippany Hills' first offensive possession, a 48-yard pass from quarterback Jake Simoni advanced the ball to the Golden Hawk's 20-yard line.
Running back Julio Tatis took the handoff from Simoni on first down and plowed through the line untouched into the end zone as the Vikings led 7-0.
On the ensuing kickoff, River Dell senior Andrew Spano returned the ball 38 yards to the Golden Hawk's 39-yard line. Quarterback Jake Sconza got into a rhythm with the passing game completing several passes to various wide receivers.
A critical pass interference call flagged against Parsippany Hills moved the ball inside the red zone. On second and goal from the nine-yard line, Sconza attempted a pass aimed for the end zone, but Vikings linebacker Tyler Lutkowski intercepted the key that ended in a touchback.
Parsippany Hills had the ball in the second quarter at the River Dell 47-yard line. The Golden Hawks defense increased the intensity with senior defensive back Devin Armen sacking quarterback Jake Simoni.
Just when it seemed the Viking's offense was stopped in their tracks, running back Julio Tatis ripped off an 18-yard run on third and twenty. On fourth and second, Tatis churned eight additional yards to set up a first down at 14-line.
The Vikings coaching staff kept feeding the ball to Tatis as he gained five yards on a critical third and three at the seven-yard line. On first and goal at the two-yard line, Tatis barreled straight ahead for the score extending the advantage to 14-0 with six minutes left.
Looking to stem the momentum that Parsippany Hills held, things went from bad to worse for River Dell. On first and ten at the twenty-five, a quick snap caught quarterback Jake Sconza off guard resulting in Vikings defensive lineman Connor Johannesen scooping up the ball and rumbling 20 yards to pay dirt that widened the margin to 21-0.
Senior linebacker Nick Sybel on falling behind 21-0, "We came out on defense and we were confident but they just started running the ball down our throats." "We had our blitzes in check and everything was supposed to work well but we couldn't predict the running back cutbacks which he(Julio Tatis) was doing all night."
With the home crowd whipped into a frenzy, the Golden Hawks were searching for a glimmer of hope. After Jake Sconza was sacked on first down, Sconza regained his composure and fired a pass to sophomore wide receiver Chis Kelm, in stride down the middle of the seam. Kelm turned on the jet burners as he coasted to the end zone for the 75-yard touchdown.
"That long touchdown by Chris(Kelm) fueled us, and we were all sitting on the bench," Nick Sybel explained. "We a ball go up in the air, and then Chris catches the ball, breaks tackles, and starts running down the field." That gave us some fire, for sure.
Once the third quarter commenced, Parsippany Hills had the first offensive series. On a third and the seven at the 23-yard line, quarterback Jake Simoni rolled out of the pocket and launched a bomb that wide receiver Joe Reilly reeled in and raced to the end zone for the touchdown with ten and half minutes remaining.
The Golden Hawks, on their first offensive possession of the second half, were able to secure a first down that advanced the ball to midfield, but the drive stalled out, forcing a punt.
Parsippany Hills' offense continued to click on all cylinders by mixing up the run and pass. Running back Julio Tatis tallied his third rushing touchdown of the game that sealed the Viking's 34-6 win.
Next up for River Dell is a match-up against Bergenfield on September 10th, with kickoff set for 2 p.m. at Bergenfield High School.
"We went in and watched a film on Parsippany Hills, and we'd like to call it putting it to bed so we can think about the next team, Bergenfield," Nick Sybel described." "We have practice and then Monday off and a little bit of a long week." There is a bunch of meetings and film to watch.
"Last year, they beat us up a little bit, but we did come out on top with the win." "They lost one terrific kid, but they're a good team." They're going to watch our film and say these guys suck, but we're going to show them that's not the case.