River Dell High School Senior Aidan Cochran epitomizes the meaning of hard work and dedication
Image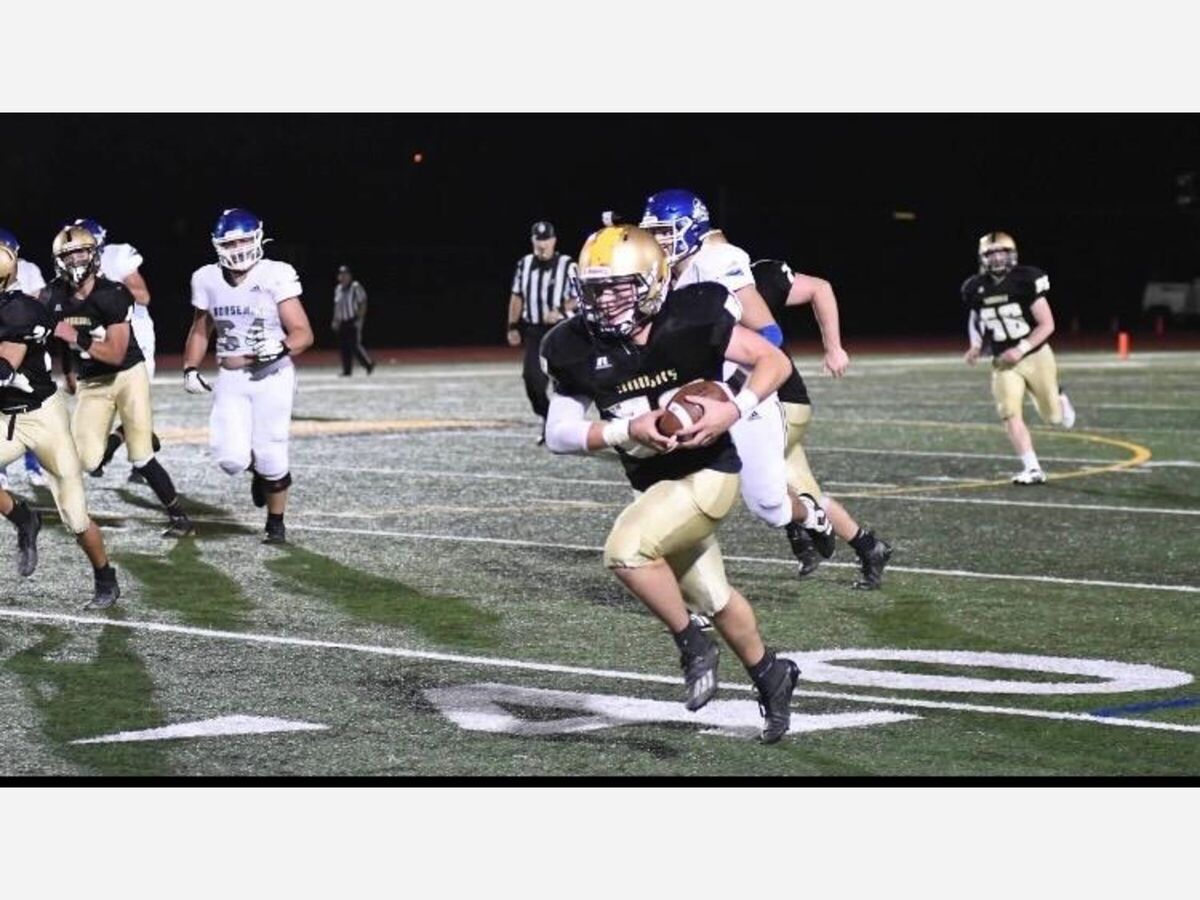 Growing up in River Edge, New Jersey, Aidan Cochran enjoyed playing baseball, basketball, and football. Cochran also played rec baseball and basketball. Cochran played shortstop and football as a lineman when it came to baseball.
"I was always on the line and embraced even though I was kind of tiny and chunky," Aidan Cochran described. "I played basketball for a little time and played football until sixth or seventh grade."
"I liked baseball better than football, but I felt the adrenaline of football." "It was way more fun in football than baseball because you got to be calm and relaxed." I always enjoyed knowing that I could do it, and with football, it was more of a team and relying on other guys.
"Football gives you a rush, a release when you need it and of you are feeling angry or stressed you can release in it and just a big emotional game."
"I grew up with a lot of Oradell kids and going into (River Dell) Middle School it was a huge step knowing those guys and having friends from sports." "Knowing that you could turn to them whenever you needed to really and develop those relationships."
By the time Aidan Cochran reached River Dell High School, he had played baseball and football for the freshman and JV teams during his freshman year. In sophomore year Cochran made the transition to the varsity squad. He said the most significant impact was learning from the older guys on the teams.
Once Aidan Cochran was on the varsity team, he wore the number 58 jersey. "I just looked up to the guy that played in front of me, and it meant something putting on," Aidan Cochran explained. "It's just not going in there and not working so it offers you more motivation and pushed you even if you are not having the greatest days and don't have the energy and tired" You look up to the older guys that played before you and hope I did the same thing for whoever is wearing it next.
The Golden Hawks went 7-4 in and 4-1 in the Super Patriot Gold Conference. Despite a shortened 2020 season due to COVID, River Dell finished 6-1 and was undefeated in the Super Patriot Red Conference, including ending Ramapo's 26-game undefeated winning record.
This past season, the Golden Hawks flourished once again, registering an 8-3 record and undefeated for a second consecutive year in a row, this time in the Super American White Conference.
"We talked about if before the year started that this was a group of guys that could make a state championship push and had a ton of guys with experience and you talented kids," Aidan Cochran said.
River Dell started the season off with a monumental victory, the 400th win in program history in a week one 26-21 win over Parsippany Hills, recording trophy wins over Westwood, Pascack Valley, and Paramus. Furthermore, the Golden Hawks notched a 39-26 win over Vernon in the 1st round of the state playoffs.
"The Parsippany Hills one stands out because it took us almost two hours to get there and we were almost late," Aidan Cochran noted. "I remember the bus ride and was pretty comical to us."
Aidan Cochran excelled on the field, returning an interception for a touchdown against Demarest in the fourth quarter at River Dell High School. In the last regular-season game, Cochran was honored before kickoff alongside Head Coach DJ Nimphius and Paramus quarterback Corey Petruzzella and head coach Joe Sabella as SFC (Super Football Conference) Man of the Year for their respective schools.
Cochran earned several accolades when the 2021 season concluded, including being named to the SFC (Super Football Conference) American White Conference All-Division Teams First-Team Defense and All Bergen County First-Team Defense. Cochran dominated on the gridiron, finishing with 106 tackles and ten sacks.
"That moment (Interception TD return against Demarest) was surreal for me, and I didn't know I caught it halfway to the end," Aidan Cochran mentioned. "It was amazing to have that moment as a high school athlete."
"You really got to trust yourself and know what you can do best and can't really focus on what's going and who you are up against." "There will be people ten or 25 pounds bigger than you but it's all about playing your individual game."
"I had no clue about the award, and the whole team read that award description, and I was shocked." It felt amazing; I wasn't expecting any of that before the season and just did everything well for the team and my teammates and a fantastic recognition.
A significant highlight of the 2021 season was "Senior Night," where the seniors on the team were honored in a special pre-game ceremony. The players had the opportunity to walk out with their families onto the field.
"Parents sacrifice time, they had to wake up early to get us to practice every day." "Coach (DJ) Nimphius strives on inconvenience and waking us up early." "Without them, it wasn't really possible for any of us, especially at a young age and they always supported us." Being on that football field and spending so much time with many families, including mine.
"We all worked so hard throughout practice, all prepared for every game and greatest feeling in the world we had spent our hard work and hours to do something fun on a Friday or Saturday and show what the town we had."
"It was a long day, and we wouldn't get home almost until 6:30 every day but there was nothing better really than with all of your friends growing up." "It's a lot of effort and hard work and not all practicing and running and more film and understanding the game and getting stronger."
"I remember coming out these football games my freshman year and it really showed much the sport meant to the town (Oradell) and how the town got behind the football team and how much they supported Coach (DJ) Nimphius." "It's an amazing atmosphere and probably the best I've ever been in and wish other sports had that atmosphere."
Reflecting on the 2021 season and his entire four years playing River Dell football, Aidan Cochran cited the importance of support from the coaching staff and his teammates.
"The coaches collectively we could have not done it without them," Aidan Cochran remarked. "During COVID we had practices on the local fields that only the kids would run it and the coaches would drive by to make sure we were all out there still working out."
"It proved to us we were just not a team but we're family." "No matter what they have been there for us whatever we have gone through and really don't get the recognition they deserve." "They're a great group of adults and really helped the kids out more than they know."
"Those bus rides are a lot of memories but with the team dinners you get to know everybody as more of a person off the field." "Half of the time you are talking about football but now we talked about our personal lives and getting to know each other."
"I met some of my best friends, and I could turn to them if I ever had an issue." "It's just a whole experience you can't get anywhere, especially football." It's a fast and fun sport but where you create your most significant friendships. It was hard to say goodbye and feel that I'm never going to play that sport again, but it's the most remarkable four years of your life, and you must cherish that.
Aidan Cochran displayed a tremendous amount of grit and determination during the 2021 Golden Hawks football season. However, the physicality of the sport and pounding absorbed led to injuries, and Cochran underwent significant shoulder surgery recently.
"I wanted to finish the season no matter what, I wasn't going to stop and didn't want to step off that field," Aidan Cochran explained. "I wanted to be with all my friends that I made throughout four years of high school."
The shoulder surgery that sidelined him for the 2022 varsity baseball season had not dampened Aidan Cochran's spirits. He looks back on his past accomplishments for the team, including the 2021 season and throwing a no-hitter against Cresskill in the Bergen County Tournament.
"One of our biggest wins last year was against Westwood, we were obviously struggling with a talented group of guys and just put it together and started rolling," Aidan Cochran described. "With the no-hitter, I feel that wasn't really me and my teammates making plays behind me and Christian Hay calling the right pitches and me just executing them."
"Christian Hay is an amazing catcher. He's probably the best catcher I have ever played with and knew me not only as a player but more of a person on the field." "I could have those conversations with him about your thinking and thought process." Communicate what pitch will come next and what will work best for both and develop a relationship.
"What I learned from football was stay composed until the game is over, and nothing is over until the bell rings." "In the tournament, we focused on advancing, and it meant something to us." We were staying in the moment no what happened and prepared for anything.
An essential component for Aidan Cochran has been the insight and leadership of Head Coach Dennis Sasso. "Coach Sasso is a big baseball; he was a catcher in college, so he worked with Christian (Hay), gave us his knowledge, and told us what works best," Aidan Cochran described. "I never met a coach before that had such intense baseball practices, and the smaller details were more than the bigger details."
"He established a culture with us, worked hard to get the small details done at practice, and would simulate a seven-inning game." "He's the greatest coach I ever had in baseball and pushed other players and me." He made me understand that you can't treat baseball as a slow game, and you must play it fast and recognize you can't step back when you are winning. You must keep your foot on the gas and establish that winning baseball mentality in my head, which helped me develop as a player.
These days Aidan Cochran is undergoing intense physical therapy on his surgically repaired shoulder, but that has not prevented Cochran from being around his teammates at games and offering advice and support to a young Golden Hawks squad. In addition, Cochran has committed to attend FDU(Fairleigh Dickinson University)-Madison and vowing to be ready for the 2023 season.
"It's getting your fundamentals right, doing the simple stuff, and not trying to overwork yourself," Aidan Cochran stated. "Once it comes game time, just like football, it's time to showcase what you learned from practice and stuff you have been working on." "You just go out there and give it all you can and push yourself," I remembered looking forward to games and itching to play.
"I'm playing at FDU-Madison and first off the coaches there were extremely welcoming and made me fit in from day one." "It's also a good academic and financial situation and the baseball team is pretty solid."
With time winding drawing closer to graduation in June, Aidan Cochran is grateful for the support from the River Dell High School student body, administration, athletic department, and most importantly, his mom.
"Every time there's a game going on, they make it and put it a lot of effort," Aidan Cochran noted. "They have families at home but choose to go and watch our games and cheer us on, which shows they care and support you." "Some of my best friends are from Oradell, and having those friendships and bonds is amazing." Thanks to everyone for always supporting us in the football and baseball programs. I couldn't have done any of that without all of you, and it's been an incredible journey.
"I couldn't have done it without her, she is always there supporting me and having my back." "Even when I had a bad game and shitty practice, she was always that positive influence on me and cheering me on." Honestly, I don't know what I would do without her.
In closing, Aidan Cochran offered this advice to younger kids and athletes, "Just don't take advantage of the game, put your all into every practice and game and always have fun doing it." "Always try to stay positive and make those friends and make those memories because honestly, they are the greatest moments of your life."