For River Dell High School Freshman Mateo Alise, football is truly a brotherhood
Image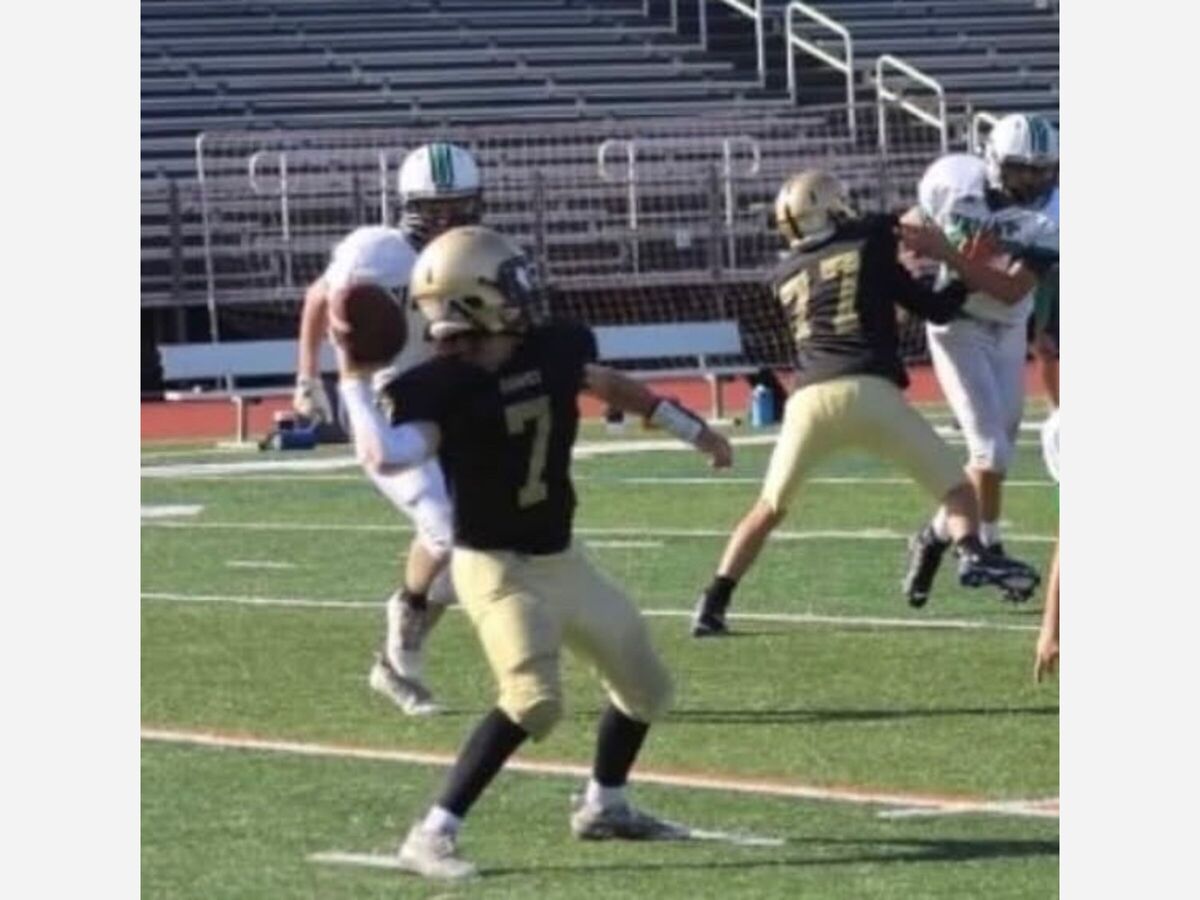 Growing up, Mateo Alise enjoyed playing several sports, soccer, baseball, and wrestling. Once fifth grade rolled around, Mateo Alise joined football. "I just fell in love with the sport, being able to put on the pads and play on a football team with your friends'," Mateo Alise described.
Moving up to junior football, Mateo Alise got to play at Doug Parcells Athletic Complex in Oradell. Making the experience memorable for Mateo Alise, playing alongside Deacon McGovern, RJ Weiss, Daniel Madonia, and Ashton Pastore.
"DPAC(Doug Parcells Athletic Complex) is a home away from home and played there for so long," Mateo Alise explained. "Junior football holds a special place in my heart, great coaches that were dedicated and had a lot of fun." Deacon, RJ, Daniel, and Ashton all joined in fifth grade, and we went from soccer to football.
Eventually, transitioning from eighth grade to high school did not come easily for Mateo Alise due to the COVID-19 Pandemic. On top of that having to prepare for the upcoming 2021 River Dell Golden Hawks Freshman Football season.
"It was a big transition from eighth grade to high school," Mateo Alise noted. "With COVID and virtual school and masks protocols to keep us safe because no one wanted to get sick."
Starting in January with early weightlifting led to grueling practices in the summer heat for the freshman football team. Mateo Alise pointed out how the crop of new kids combined with the older kids led to the group forming a close bond.
"We had a great group of guys coming into the season, the relationships between the older and newer kids grew and the fact of playing football year-round." "We lifted throughout the winter, which was a grind, the summer practices at first were really exhausting but your body eventually got used to it." Looking forward to waking up early and seeing your friends every single day and practicing with them.
Before the regular-season opener vs. Parsippany Hills, scrimmages against Sparta, Mountain Lakes, and Morris Knolls prepared the team for the upcoming season and high school level competition.
"Those games honestly were a lot of fun," Mateo Alise reflected. "I think it just prepared us as a team because we had a lot of new players that we acquired over the off-season. "We were trying to get our chemistry together and get this rolling." Just getting everyone on the same page and plays down, we got everything down when the season comes.
Opening with a dominating 32-6 victory over Parsippany Hills, Mateo Alise knew the importance of playing high school football for the first time. "I was really excited going into the first high school game, it was a little nerve wracking at first because you don't know what to expect and our new coaches are coaching us for the first time." "It was fun being a part of the team and able to win."
Following the week one win, the Golden Hawks narrowly defeated West Essex 23-22. "It was a team effort, awesome play-calling by the coaches, and the special teams had an onside kick recovery," Mateo Alise remarked. "We had an offensive drive to win the game, great job by the offensive line and awesome throws by RJ(Weiss) and plays from Chris (Kelm)." We would not have that game without the play from the defensive line and linebackers.
River Dell continued to build momentum as the weeks progressed, posting back-to-back shutouts against Westwood and Demarest. They followed up those victories with a 35-16 win against Pascack Valley at Pascack Valley High School.
"A major team effort, RJ(Weiss), Chris (Kelm), Mason Nagle, Dean(Marucci) and Ryan Rossig," Mateo Alise cited. "The offensive and defensive line, Josh Hums, Luke Westlake, Nick Berbarian, and Daniel Madonia."
During the season, Mateo Alise played on both sides of the ball. On offense as an offensive guard and defense as a defensive lineman.
Mateo Alise on playing both positions, "The offensive line is a brotherhood." "I'm on the smaller side but it's a lot of fun." On the defensive end spot, I have been able to go in there and make plays. I have been playing at that spot since fifth grade and have been great.
Returning home to play Nutley in week six, the Golden Hawks were locked in a tight battle for all four quarters. Trailing late in the fourth quarter, quarterback RJ Weiss connected on a touchdown pass to Mason Nagle, followed by a two-point conversion pass to Nagle as River Dell won 8-6 to keep an unbeaten streak intact.
"That was probably one of the toughest teams we played," Mateo Alise said. "It was a team effort, beating Nutley was one of the best feelings ever." Just knowing we got to continue that undefeated season, keep that momentum going, and have a good week of practice.
Building up the continuity and rigors of football, many freshman players also played on the JV team. The JV squad played their games on Monday afternoons. The combination of two games a week and six days of practice kept the players in tip-top physical shape.
"It was so fun to be able to go into a week knowing that you were going to be able to play two games a week and playing with older kids," Mateo Alise described. "It was a little bit more challenging but made us all better.
In the last three weeks, the Golden Hawks rolled past opponents in Vernon, Ramsey, and Clifton. They outscored all three teams 99-30, including a 36-14 thumping against a Ramsey squad that was also undefeated, completing an undefeated season at 9-0 and the first River Dell High School freshman football team in over a decade to accomplish that mark.
"Our team had a lot of heart, taught and trained by coaches mentally and physically, in the classroom, and weight room. Coach Sammy (Halabi) has been great to the lineman and prepared us well for the games," Mateo Alise explained.
"Coach(Steve) Iafrate helped out a lot with the wide receivers, cornerbacks and quarterback." "He is a nice guy, my gym teacher in high school and will talk about football all the time." I can tell you that he loves the sport and coach the players.
"Coach (John)Budka our offensive coordinator had great offensive plays that he designed to help the team win." "Coach Mike (Aliano) made a lot of great defensive calls, you could tell he is very dedicated with setting meetings up with us, comes to our lifts, helps out with the varsity and stays with us during lunch."
The support this season from fellow students, River Dell High School athletics and administration, and athletic teams Mateo Alise points to have played an instrumental role in the group's success.
"Having people come watch you, cheerleaders and fans and an awesome feeling to be able to play at home," Mateo Alise noted. "We have an amazing students' section that comes to all of our games and makes sure to support us and our school loves the team and players and coaches." The administration in Mr. (Brian) Pepe, Mr. Jeffrey (Principe), and Mr. (Brandon) Flanagan are very supportive and come to almost all of our games.
"There is major support from the varsity football team, they have given us tips on how to improve and get better." "It's just like family and a brotherhood and we're really close." There are sessions where we get to practice with them, and we go to their games, and they come to our games.
Most important in terms of support for Mateo Alise has been from his parents and sister. "My family has been a huge support for me, my father has been with me throughout this whole journey since fifth grade," Mateo Alise said. "In junior football he coached me and has given me tips on how to get better in playing football in high school."
"He comes to all my games with my mom who is another huge supporter and helps me emotionally." "I have a younger sister who is in eighth grade and also supports me and comes to a lot of my games."
In closing, Mateo Alise offered this advice for younger kids/athletes playing football today. "Football is a great sport, the message I would give to them is the dedication you have on the football field should be the same dedication you put into the classroom because without applying yourself in the classroom you won't be able to play football."