Amanda Mircovich reflects on memorable River Dell High School track and field career
Image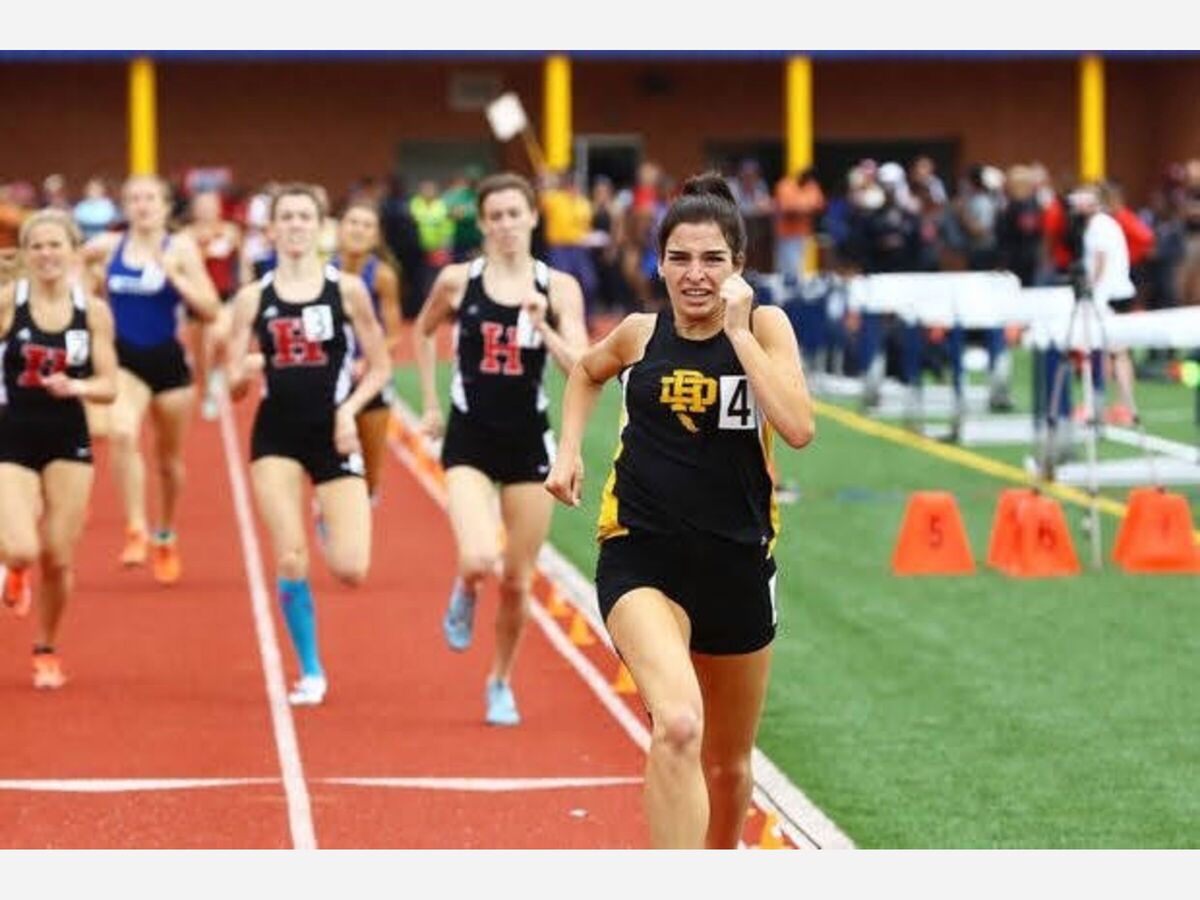 Growing up in a big family where she had three siblings, Amanda Mircovich always stayed active. She displayed a competitive nature, whether it was basketball, soccer, and lacrosse up until eighth grade.
In addition, Mircovich was involved in swimming and softball as well. Having to pick a particular sport, Mircovich chose running, where she ran in the 5K River Edge Run while in sixth grade.
"I was always very competitive growing up, one of the four of youngest of them and also a twin always making up games and I always wanted to win," Amanda Mircovich said. "I think that was the only running(5K River Edge Run) I did before and didn't run track at the (River Dell) Middle School in seventh and eight grade."
By the time Mircovich reached River Dell High School had risen the ranks rapidly as a freshman finishing second in the Group 2 800 meets. Once her sophomore year rolled around, injuries caused a temporary setback. Rebounding in her junior year, Mircovich earned a medal in the Indoor Meet of Champions.
"I did pretty well with the 800 my freshman year but then my sophomore year I got hurt so I wasn't able to accomplish more," Amanda Mircovich described. "I really started to pick up things my junior year and excited about that."
Incorporating cross-training and swimming during her sophomore year Mircovich cited is what got her into much better shape during junior and senior years. "Swimming was definitely a huge thing and I got me into great shape." "I feel it made different parts of my muscle groups stronger and was able to keep my cardio up." Injuries are the worst thing, and when you can overcome them, you feel so much better.
Cognizant of a healthy diet, Mircovich credits her Dad with cooking up a special meal. "It's rice, chicken, and carrots all mixed." After having my fried rice, I started my senior year getting ice cream from Brain Freeze(New Milford)."
Heading into her senior year at River Dell High School, Mircovich reminisced about coming full circle. "I remember being a freshman and looking up to the seniors and I'm still close with them." "They were so much older, such great runners and mature."
"I said how am I already there, it went by so quick and all the girls are younger than me." "What's so special about track is like no other sports a little bit of a hierarchy and you're just together." I was able to teach them about the culture of the River Dell(High School)track.
"What happens at practice is kind of half what a friendship is on track every single day." "I would drive Sarah Cookson to and from practice and we became such good friends from that point and Christina(Allen) a couple of times and anyone that needed a ride."
"Times like that we just laughed, having no practice and going to get something to eat." "When I was a freshman, I was walking up to Shannon Goria and I was like oh my goodness and so scared but she was one of the nicest people I ever met and so welcoming and that's just what cross-country and track are." It doesn't matter how fast or slow you run, and you're just a member of the team and want to be friends.
Despite sustaining a hamstring injury in June, Mircovich recovered to finish with a time of 2:16:40 in the Group 2 800 Meet at Wayne Hills High School. Mircovich finished in sixth place in the Meet of Champions, winning the Bergen B title and Big North Patriot North 1 Group 2 title meets. Her biggest accomplishment culminated in running the fastest North Jersey time of the year in the State Group 2 Championships and adding to her list of accolades Mircovich named to the 2021 All North-Jersey Team.
"It was definitely exciting, I wasn't really expecting to win in groups and was in total shock," Amanda Mircovich noted. "Coach (Mike)Urso always had us write goals that we wanted to accomplish, he didn't makes us do it this year as he did in previous years but I continued to do that with a writing down a two-point twelve nine and was just so ecstatic I was able to reach my goal of breaking that time."
"Group 2, I have never placed higher than fourth, so I was just so excited; I had a hamstring injury right before the sectionals, which was the week before groups, so I was pretty nervous about that." "I dropped out of the 400, four by four, so I only ran the 800 sectionals." That is what I focused on, excited that things are finally starting to come together and all my hard has paid off."
When it comes to the coaching staff, Mircovich gives credit to Coach Mike Urso for the success of the River Dell track and field team. In addition, the leadership from River Dell High School Athletic Director Denis Nelson.
"Honestly he's(Mike Urso) one of the best coaches I will probably ever have," Amanda Mircovich remarked. "He know the right thing to say and what the right training is so smart." We made time trails when COVID hit, went to an open track, and showed colleges our times. He still was able to give us workouts outside of training.
"He(Denis Nelson) knows everything, every time there is a race makes sure everyone in the school knows about it and organizes everything." 'He wants everyone to have a chance to run and compete no matter what it is." Anytime you see him, he will say congratulations and talk to you and cares about everyone.
Once the track and field season finished, the emotions overflowed as Mircovich reflected on this year's team as well as her four years at River Dell High School and graduation.
"It was so sad, I cried a little bit and just how this is over," Amanda Mircovich explained. " I love River Dell track, everything all coming to an end was emotional and I look back on my past four years honestly as a great career and would have not changed a single thing."
Coach (Michele) Carcich is the best; she is that person when your nerves are a little too high and calms you down." "She is my go-to person if I need help with a question." There have definitely been some coaches that have come and gone and Coach(Adam) Herman was a big part of my freshman and sophomore years.
"I feel like it's just being able to understand each other, everyone was similar and right off the bat everyone just clicks so easily." "We're such good friends and was so easy to talk to them about anything." We'll talk about real things, not just small talk, and it made us pretty special.
"I have such a special place in my heart for River Dell, just something about the environment and I love the people." "When there's a game, meet or match you know there will be people to cheer on and everybody cares about each other."
"I really enjoyed graduation for some reason, my sister Maggie(Mircovich) gave the salutatorian speech and I heard the speech maybe a 1000 times and it was just really nice to hear her speak."
Now Amanda Mircovich sets her sights on college next. She decided to attend Lehigh University in Bethlehem, Pennsylvania, where she will continue to run in track and field. "I'm really pleased to continue to run there because I just love running and the thing on my mind is team," Amanda Mircovich stated. "Right off the bat, I just love the coach(Matt Utesch) and he's just so nice."
"The second thing was the girls on the team because I feel that's the most important thing are the girls so that you don't click then that's just not going to be a lot of fun." "I really like the girls, they're just so normal and similar to me." Another big thing is they're hardworking and really care.
Running alongside her sister Maggie at River Dell High School, Amanda Mircovich will get the opportunity to see her sister at track and field meets with Maggie attending Bucknell University that is also in the Patriot League.
"My Mom said for the longest time we were each other's biggest rivals and cheerleaders and take each other's successes as our own," Amanda Mircovich explained. "We will never root against each other and if someone wins it doesn't matter and if you beat me doesn't matter." I will be rooting for Bucknell(University) next year, but hopefully, Lehigh wins also.
Most important to Amanda Mircovich during her athletic career has been the support from her family. "I don't think my parents' have ever missed a meet my entire life, they might have missed two games in soccer and basketball " Amanda Mircovich mentioned. "They are so supportive, they've come to everything they can and if they can't heartbroken about it."
"My Uncle Bob will come to every race because he is a runner too." "He is timing everything on a stopwatch and it's really nice so I always have some fans in the stands."
Finally, Amanda Mircovich offers some advice for younger kids who want to attain the same level of success that she accomplished at River Dell High School.
"I think the basic thing is you need to do what you love and figure that out." "We need to understand that not every day is going to be a good day." There will be days when you really struggle and get hurt, but you need to understand that things will get better because you need to work hard at it and continue to care and be good as you want to be, and come down to how much you want it.