Freshman Christina Allen etches name into River Dell High School track and field record books
Image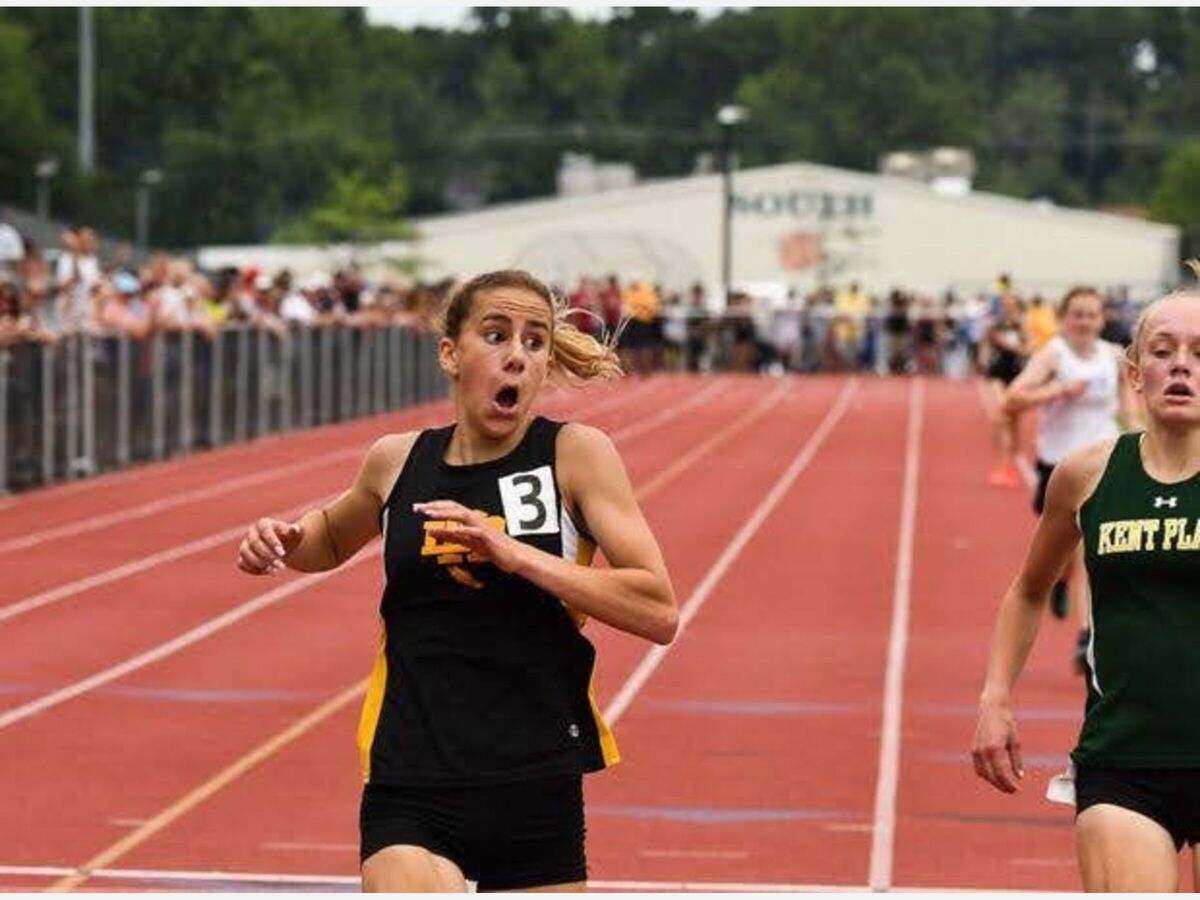 Heading into her freshman year at River Dell High School, Christina Allen felt intimidated and scared. Unsure if she would fit in at all, Allen decided to join the track & field team. Making the transition much easier was the support from Head Coach Mike Urso and seniors on the team.
"They(seniors) would always give me rides to practices if I needed it, we'd always go out for ice cream and get food after practices," Christina Allen described. "Coach(Urso) just made it a lot of fun, an amazing coach and he knew what to do."
Running cross-country last fall Allen eased into the training as well as running the races. With practices every day during the summer, the number of miles run would be on the low end of the scale, but as August and September neared, the intensity increased exponentially.
"During the smaller races he(Coach Mike Urso) had me run slower, staying with the girl who was in first(place) for two miles and have me kick in for that last mile," Christina Allen explained. "After the season ended he had me take a week and a half off and do no running."
Once the outdoor track season commenced, COVID-19 wreaked havoc, not only shutting the team down for a week but interfering with the weight room training as well.
"Our coach(Mike Urso) opted out of the weight room because we didn't have to be in close contact," Christina Allen noted. "Because if you're outside and in contact with somebody who has COVID, you don't have to quarantine if you're six feet away and if there is somebody in the weight room, you have to quarantine." I would usually do stuff at home by myself, get up in the morning and do a strength workout."
When preparing for the NJSIAA Track and Field Meet of Champions in South Plainfield, New Jersey, Christina Allen had a simple preparation for the race. "For the lunch the day before I'll just have chicken or some protein and same thing for dinner then just try to get bade early and wake up at a normal time, and usually for the lunch the day of the race I have a Caesar salad."
A stifling day for running with temperatures hovering at 90 degrees, Allen said the goal was to place top three heading into the 3200-meter race. Allen's mindset changed during the race as she fell behind drastically behind the pack of runners and attempted to finish in the top eight of the field.
"I don't do very well in the heat and in South Plainfield where the meet was it was very hot," Christina Allen remarked. "Dripping with sweat the whole race and that was painful." None of the tracks have shade, so it's just blaring out there.
"I was already back in seventh, just wanted to medal and as the race went on I was literally saying I should just stop." "Then I was in fourth, I just started running with Lindsay Hausman(Kent Place School) and trying to catch up to the Haddonfield(Memorial High School) girl(Sarah Natichhia)."
Coming down the home stretch Angelina Perez of Lakeland had the lead. Still, Allen and Lindsay Hausman stormed back as all three runners crossed the finish line simultaneously in dramatic fashion. Clocking in at 10:46:36, Allen was unsure of where she had placed in the race.
"Honestly I really didn't know, it took them a few minutes to look at the photos and I thought I had cross the line first but couldn't really say anything and if I had won or not," Christina Allen noted.
Once officials sorted out the official results and that Allen had won the race, becoming the first female state champion in River Dell program history and only the third freshman to win the 3200 and first since Erin Donohue of Haddonfield back in 1998, Allen was in complete shock.
"It's so cool being the first person to win states in my freshman year at River Dell," Christina Allen said. "When I was younger I would be walking through the high school and I would see the those names up on the wall and say it would be cool if I was up there."
"Everybody's been so kind, the principal(Brian Pepe) called right after my race, I've had friends' and people who I don't even know text and call me and say congrats." "The person who runs the River Dell Instagram page put out stuff about me winning."
However, most important to Allen is the support she has received from her family during this past year. "My Mom and Dad are always at the track and they will drive an hour or two anywhere and nice to have that support." "I have two siblings, one sister and brother that are both younger than me and are very happy for me."