River Dell Varsity Girls Lacrosse Team remains undefeated after a 13-3 win over Pascack Hills
Image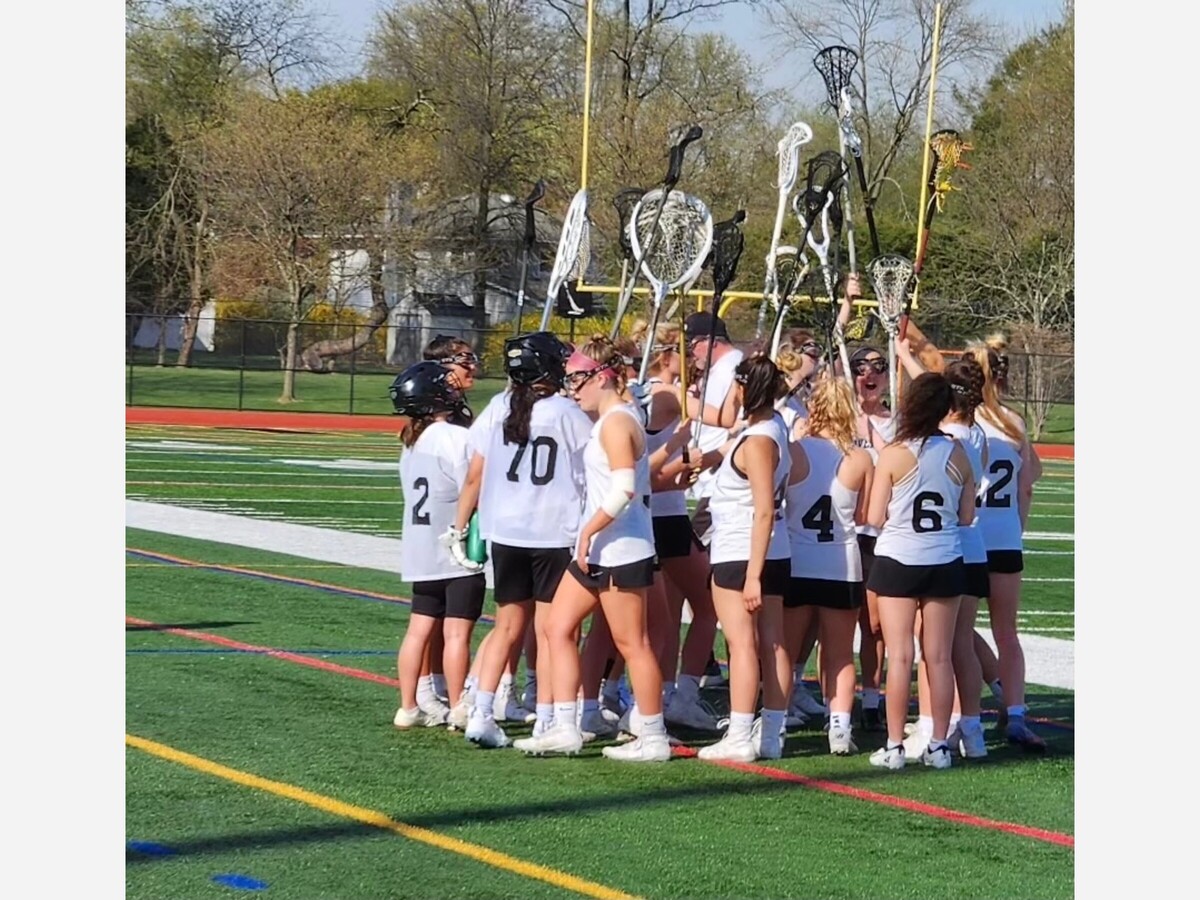 The River Dell Golden Hawks Varsity Girls Lacrosse Team (5-0, 2-0 NJIGLL-American North ) faced off against the Pascack Hills Broncos(1-2, 0-2, NJIGLL-American North) on a hot day with golden sunshine and deep blue skies at River Dell High School in Oradell, New Jersey.
"Pascack Hills is a great program and well coached and they had an incredible season last year," River Dell Head Coach Jessica Rickershauser noted. "In our league it's tough and all these games matter we're prepared for a good matchup and tough game."
Entering the game, River Dell was unbeaten in four games played while outscoring their opponents handily 37-9. The Golden Hawks were coming off an 11-6, 5-1 NJIGLL-American North) in the 2022 season.
"We're definitely happy and we still have a lot of work to do and four games into the lacrosse season isn't a lot," Head Coach Jessica Rickershauser explained. "We're just ready for the next challenge and right now getting into league play." "We're defending our title crown and we want to make sure we come out and do what we are supposed to every game."
"It's a certain point of pride that not many coaches can say they were the first in the program to coach and every year we're working to be better than the year before and we have so many talented players." "That's actually due to our youth lacrosse program which is very strong in Oradell and River Edge communities and we're getting those players ready to play." "I teach at the high school and love coaching and we're proud of the improvements we make every year."
"My message to the team was to carry the torch and they had a great season last year and year before and we have new faces in new places and it's hard because you're used to having elite players and then four years later, they graduate, and you have to start all over again." "Our message and what we preach is we don't have stars for that reasons so that next player steps up and everybody is going to accept them to step into a new roll."
"When you look at our stats right now, we're spread out and we don't have anyone scoring 30 goals and that's what we want and everybody to be on board." "People are stepping up and getting their little moment to shine and that's the role they play for us and take whatever we can get, and we make sure they're successful as possible."
Despite losing significant goal-scoring production from last season in senior Lauren Gillies leading the team with 82 goals and Ryan Berman tallying 23 goals, senior Nicole Gangemi is off to another strong start after registering 30 goals last year, as well as sophomore Megan Harnett who chipped in with 13.
"We're super pleased with Megan(Harnett) and her start, Head Coach Jessica Rickershauser described. "Freshman starting on varsity is a tough position and learning our sets and systems and how we run things and our culture while trying to produce simultaneously." "This year, she's just so comfortable and switched positions for us and taken on more of a responsibility for us as well in the midfield and still scoring goals, and it's a tribute to how prepared she was this season."
"Nikki's (Nicole Gangemi) is right back to where she started last year and plowing on." "The nice thing about having the seniors on attack and quite a few of them is they know what we need to do and settle the ball and when they need to go on the run." "They calm the rest of the team down and get them in the positions they need to be in."
The Golden Hawks should have avoided jumping out to 3-0 in the first six and half minutes of the first half against Pascack Hills. Senior Hannah Esler led the charge notching a pair of goals while Nicole Gangemi also found the back of the net.
River Dell continued to flourish on the offensive end registering two goals, first by Hannah Esler and then Nicole Gangemi, 17 seconds apart at the 11-minute mark to extend their advantage to 5-0. The Golden Hawks added three additional goals from Megan Hartnett, Ayva Gallagher, and Mia Kurtz to take a commanding 8-0 lead at halftime.
"That was our game plan and we wanted to have a great first half," Head Coach Jessica Rickershauser stated. "We have been inching towards that and this was the first game we felt as a team we did what exactly what we were doing and kept our gas pedal on the whole time and executed the game plan perfectly and very proud of the girls."
"We had a couple of days to prepare and most of the players play in the hot summer months and then in September and we talked about hydrating 48 hours before which is important." "We were able to save our players who are running back and forth more and slow down the game."
River Dell tacked on five more goals in the second half, with Mia Kurtz chalking up her second goal. At the same time, Hannah Esler, Megan Hartnett, and Nicole Gangemi all amassed hat tricks as the Golden Hawks rolled to the 13-3 victory and remained undefeated at 5-0. Harnett is the leading goal scorer on the team with 13, while Gangemi is second with 12, including hat tricks in her last three games.
"I'm really proud of myself and especially senior year but it's a team game," Nicole Gangemi cited. "You got to make sure you're working for yourself and the team and got to make sure you make smart passes and shots and it's a lot of decision-making."
"It's very balanced and we have a lot of great athletic and good younger underclassmen with Hannah Logan and Ayva Gallagher and Megan Hartnett." "This is Mia's (Mia Kurtz) first year on varsity and she's showed her ability and helped the team out in goals." "This year it's very close with the age group and we all are playing together and feel very connected so that helps out a lot and definitely working to keep our league title."
"We have a great coach to rely on in Coach Rickershauser and she's a very determined coach and respectful and loves all of us and stays connected." "She's a good coach to talk to about anything and rather have you asked a question and she'll tell you how to fix or walk you through something." "She keeps us going and motivates us."
Sophomore goalie Samantha Idiculla produced another solid performance in the net for the Golden Hawks. "Sam had a huge game for us, and she came up with the saves when we needed them and the momentum was going our way," Head Coach Jessica Rickershauser remarked. "Her clears were excellent, and she was passing the ball 30 to 40 yards away, and that's hard to defend in transition and helped us get right back on offense again."
"Sam is always ready to improve and has taken on much more of a leadership role." "When you're a freshman with all the seniors we had last year, and it's tough if you're a goalie and she's just stepped in." She gives us a lot of energy, and when she makes a big save, it ripples throughout the offense." "She provides a spark for us and is so talented, and we're lucky to have her."
Despite the heat, there was a great turnout in the bleachers and people standing behind the fences to support the Golden Hawks. "The team loves having the fans and we're small tight knit community, so everyone knows each other well and support each other."
"From the school administration and athletics and it starts actually with our athletic director and Dennis Nelson is the best at his job hands down." "One of the things I love about working in the athletic department he just lets us coach and takes a lot off our plate and he does things above and beyond as well." "The girls are excited when he's at the games and their biggest fan." "Our principal Mr. (Brian)Pepe has been to the game, and they love that support."
"Dennis always tells the kids when they put that jersey on your representing your coaches and team but representing your community and the girls take that very seriously." "When they put that jersey on, they're ready to start the game and go hard for both halves." "You can tell they have pride in their school and team as well and it comes from having respect for their teammates and for each other."
Nicole Gangemi on the support, "It's great to see all the parents and students coming out and boys' lacrosse team as well as other spring sports." "It gives me and rest of the team some adrenaline and nice to see these people supporting our journey."
River Dell enters a difficult stretch with the schedule of playing the next five out of six games on the road and starting on Monday, April 17th at Newark Academy at 4:30 p.m. followed by at Pascack Valley on Thursday, April 20th at 4:15 p.m. before returning home briefly on Monday, April 24th against Governor Livingston at 4:15 p.m.
"That's how lacrosse is set up and different from than other sports because we're put in leagues based on our strengths and playing teams better than and close to us," Head Coach Jessica Rickershauser said. "That's why the games are closer and you don't see too many blowouts in league games and it's parity." "It's tough on the road but we take it one game a time and we won't talk about anything else until the day before and prep ourselves with our scouting and move on."
"Road games aren't easy because it takes you out of your routine and you have to get on that bus and prep that way." "It doesn't seem to bother the girls as long as they're ready and prepared and we can only control what we can control."
"Newark Academy has been an out of league game for us the last couple of years and it's a good matchup." "We're not trying to look past them with PV (Pascack Valley) a huge rivalry game for us but it's hard when you have some good league games looming over us and we have to bring our A game and they're going to be tough."
Nicole Gangemi on the road schedule, "We have some challenging teams coming up, but I don't think it's going to set us back and push us even harder." "We know that we can show everyone what else our level is and how hard we work in practice on the field and as a team." Our coach tells us it's a team game, and there's no one star necessarily and what's been working for us."