River Dell Varsity Boys Basketball Team season ends in North 1, Group 3 Tournament Semifinal loss to Teaneck
Image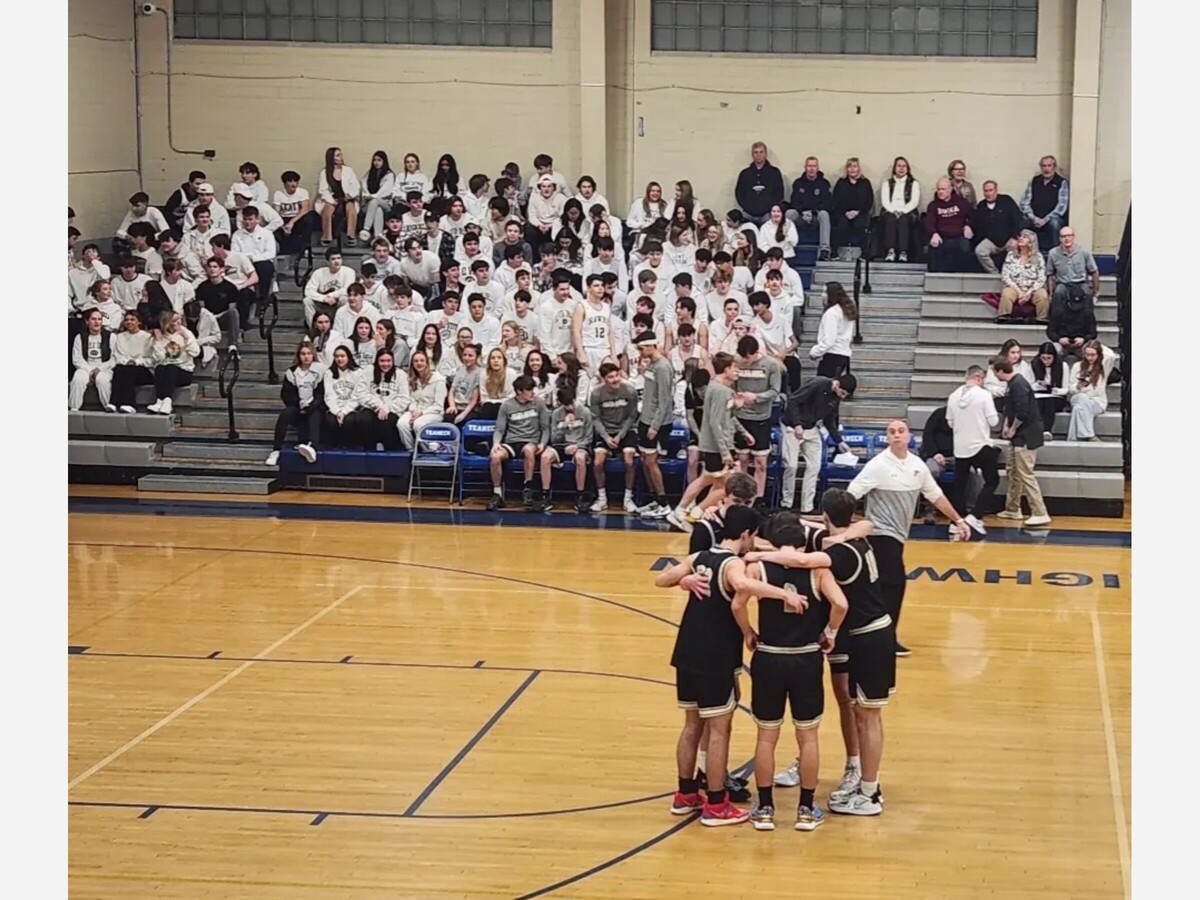 The River Dell Golden Hawks Varsity Boys Basketball Team(21-7) faced off against the Teaneck Highwaymen(23-6) in the North 1, Group 3 Tournament Semifinals at Teaneck High School in Teaneck, New Jersey.
River Dell was coming off a 66-46 win over Demarest in the Quarterfinals at River Dell High School. Four Golden Hawks players, led by Sean Golden, reached double figures, tallying 17 points.
Fans from both schools packed the bleachers to maximum capacity, with the River Dell student section decked out in white and several students sporting Golden Hawks basketball home jerseys.
"It was great, knowing all these guys wanted to have a good time and come out to the game, Hamilton Roth explained. I had the idea of wearing the jerseys. The game before I gave my friend an away jersey. It was funny to see the guys wearing the home jerseys for an away game and old freshman shorts."
"After we warmed up, I'm walking back to the bench, and I see how many people are in the stands and seeing how many people are supporting you is very cool. It was fun to play in that atmosphere."
Matt Kelleher on the student section and away bleachers filled, "You looked up in the stands and there was someone you knew, and the support was ridiculous. It was fun to play in a game with that many people there and felt like a home game and the whole community showing up."
The Golden Hawks wasted no time, jumping out to an early lead at 5-0, highlighted by Hamilton Roth burying a trifecta. However, Teaneck responded with a 10-0 run. Roth knocked down another jump shot to stem the Highwaymen spurt.
River Dell could not contain Teaneck's phenom 6'8 center Tyler Tejada who dropped in nine points as the Highwaymen led 17-10 at the end of the period.
In the second quarter, the Highwaymen caught fire again with a 7-0 run that widened their advantage to 24-12 at the six-minute mark. The Golden Hawk's offense struggled to generate more offense inside and from the perimeter.
Tyler Tejada continued to dominate, especially in the paint and low post, and getting out on the fast break for a pair of thunderous dunks. Mickell Taylor drained two triples as Teaneck led 39-21 at halftime.
"It was tough for all of us, especially with Tejada at 6'8, we would get our shots blocked, and that's why we settled for shots more than going to the hoop," Hamilton Roth described. Once they hit their shots, it didn't feel great when they went on the run."
"They were trying to speed it up and make us into committing mistakes. They didn't want us to get comfortable and run our offense and score. We were breaking their press but just could not get open layups and then had to pass it out and run our offense."
Matt Kelleher commented on the second quarter, "It just felt like the game was slipping away and got out of hand. They started hitting their shots and had everything clicking for them. Even their guards were able to get rebounds and were so fast and good at the little things and showed."
Once the third quarter commenced, the Highwaymen expanded the margin even further to 54-27 at the end of the period. Heading into the fourth quarter, several River Dell players that came off the bench were able to get quality playing time.
"It was great to see that everyone got in and that final moment, Hamilton Roth noted. It's good for the guys on the bench that normally don't play and got their minutes and fun to watch."
Matt Kelleher on the bench players, "They deserve to play especially like it was our last game of the season, and we were done. They've helped us out all season scouting for other players and teams and to be honest nothing is possible without them. They're as big as of the 21 wins and anybody else on the team top to bottom and been through a lot this season."
Despite Teaneck pouring it on in the fourth quarter, the Golden Hawks had one last highlight reel moment late, with Matt Kelleher draining his second trey of the night that broke the River Dell single-season record for three-pointers made—the parents and the rest of the fans and students section erupting in applause to celebrate the historic achievement.
"When I saw the ball go through, I really got emotional, Matt Kelleher stated. Last summer and in the fall, I struggled so much to shoot the ball and it's always been my thing to be a shooter. For some reason I kept overthinking because I really wanted to have a great season this year. I really couldn't even find my shot when I was playing in my driveway and would really get upset about it."
"I just stopped overthinking about it and I always had the saying that if you want to be a shooter you just got to let it fly and whatever feels right."
After Kelleher made the historic three-pointer, he departed the game, and the emotions and tears started pouring out with Head Coach Ron Van Saders and his teammates.
"One of the biggest influences in my life was my grandfather, whose birthday was September 22, Matt Kelleher said. He passed away a few years ago, and I always wanted to wear this number 22 jersey for him. I do this for my mom and my grandma, and its family ties, and super proud I could do this with that jersey on."
"I will never truly forget all our coaches and special to me. It's bigger than basketball with all of them and they believed in me and gave me an opportunity which is something I didn't have growing up."
Eventually, the clock hit zero as Teaneck cruised to the 63-42 victory, thus ending the Golden Hawks 2022-23 season. Matt Kelleher scored a team-high eight points.
Hamilton Roth, on the final game of the season and River Dell career, "It's kind of sad knowing this chapter of my life is over. 12 years since I have been playing basketball and you want to play on the varsity team, wear that jersey and represent your town and high school. It's bittersweet. I won't have that crowd cheering for me anymore and putting that jersey on, but I got four more years of basketball and got to move on."
"We won the league and 21 games and nothing to be ashamed of because we had a great season. I have known these guys almost my whole life, and most of the guys from Oradell and playing together since elementary school. There were so many great memories and moments that I will never forget. We will have guys that will take over and do an excellent job because they have the skills, and we were still determining where we d were going to be this year with one returning starter.
"My Dad is always a big supporter and every time during the game I would look up at him and if there was a bad call, I would see what his reaction is. It's great knowing how my family has been supporting me through the college recruiting and helping me get to this point where I am in my life."
"It's great knowing the teachers and administration care about athletics and the students. Mr. (Brian) Pepe is so involved with everything and thanked the students for coming out to our games. Mr. (Denis)Nelson after the end said it's been a pleasure to watch you the past couple of years."
Matt Kelleher on the 2022-23 season-ending, "Even though we lost, I'm so happy we lost in front of everybody. It brought energy into the building. Everybody supported us at the end, and the student section cheered us on. We got a standing ovation once we were subbed out for the last time, and it meant so much to the entire team."
"I tried to make the myself the best example possible to the younger kids and players and lead by example. Whenever the kids would come to game, I knew what it was like to be their age and watching a varsity game. I didn't play a lot so I want these little kids to realize even if you don't get your opportunity stick with it and anything's possible especially at the high school level and to be a great player. With the whole community coming out including neighbors shows how much of a family and privilege it's to be part of the community."
"We have a lot of hard workers in the grade below and bunch of guys that come out of the winds. I see the middle schoolers that love basketball and if that's the case the program is really in good hands because the coaching staff does a great job of developing everybody. Now that people have seen how good of a season we had it's only going to make the demand and popularity of the spot at River Dell grow."