River Dell Varsity Girls Basketball Team season ends in North 1, Group 3 Tournament Quarterfinal loss to Old Tappan
Image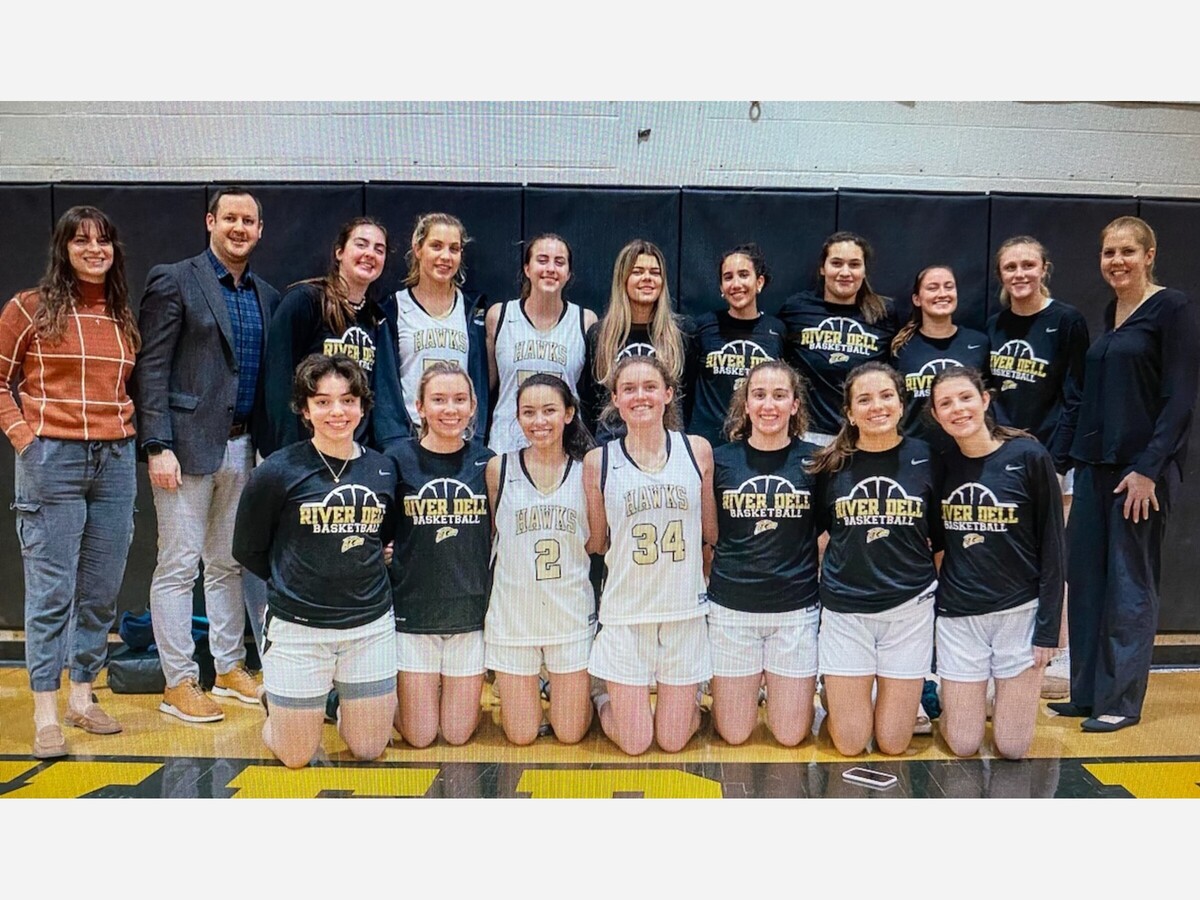 The River Dell Golden Hawks Varsity Girls Basketball Team (20-6) squared off against the Northern Valley Old Tappan Golden Knights (22-5) in the North 1, Group 3 Tournament Quarterfinals at Northern Valley Regional High School at Old Tappan in Old Tappan, New Jersey.
River Dell was coming off a 54-33 win over Wayne Hills in the first round at River Dell High School. Nine Golden Hawks players tallied a point, with Sophia Sanchez leading the pack with a game-high 17 points.
Even an early 4 p.m. tip-off did not affect River Dell as they jumped out to an 11-2 lead at the end of the first quarter. The Golden Hawks employed a stifling defense that held Old Tappan without a point for the first four and a half minutes. Lily Crowder and Lizzy Puentes each netted four points apiece.
"We came out strong and made Old Tappan into some unforced turnovers which they don't normally do, and they do a greta job of taking care of the basketball, River Dell Head Coach Lindsay Steffner explained. We made some good baskets, held them to two points and doesn't get any better than that."
Lizzy Puentes commented on the first quarter, "We went into the game a little nervous, especially the seniors but once we got that energy it made us stronger. It gave us er the confidence as we were walking off the court."
In the second quarter, Old Tappan found their groove on the offensive end, erupting for a 14-0 run to take the lead. The Golden Hawk's offense struggled as they finally scored their first point of the quarter at the three-minute mark.
The Golden Knights continued flourishing in the offensive zone as they bumped their advantage to 25-13 at halftime. Melissa Brennan(9 points) and Natalie Carril(6 points) combined to score 15 points.
"We knew that Old Tappan was going to storm back and make a run and that wasn't a typical first quarter for them, River Dell Head Coach Lindsay Steffner described. We had gotten ourselves into a little bit of foul trouble there and I had to make a couple of substitutes and adjustments."
Once the third quarter finished, Old Tappan widened their lead to 36-23. However, the Golden Hawks ignited a rebuttal towards the end of the period with a 5-0 spurt capped by a three-point play by Morgan Sconza to close the gap. Lily Crowder and Lizzy Puentes provided a spark with offensive production, each supplying six points apiece.
"Me and Lizzy have been banged up all season long, but this is our senior season and we decided nothing is going to stop us, Lily Crowder noted. I have been proud of Lizzy all season and she has given it her all in every single game she has played in and proven herself. We were able to hit them inside because they have two strong post players."
River Dell Head Coach Lindsay Steffner, in her message to the team at halftime and third quarter, "I told them they made their run, so it's our turn to get back in this and keep fighting. I said this is how we will do it; everyone has to buy in and listen to the instructions."
"The team did a great job of executing offensively and we made a couple of adjustments. I told them we must get second-chance shots, rebound, be more physical and on the attack instead of being on our heels. We just had spent a quarter of being on our heels and got to go back and attack."
"That was a pivotal play where Morgan has the confidence to take the shot and draw the and one. She played phenomenal off the bench and had the composure of an upper classman. The girls have been playing with some bumps and bruises and broken bones along the way. Morgan is playing with a broken nose and mask that gets adjusted, Lily's quad has been bothering her since volleyball season, Lizzy with the broken finger and Kasey(Ziegler) has been playing through a shoulder injury. When they're down the rest of the team picks up the slack and a great sign of what the team and River Dell represents."
"Lizzy and Lilly with their senior leadership in the post and they took over and did a great job and put the team on their back at that point, River Dell Head Coach Lindsay Steffner stated. You could feel the energy shifting especially in the huddle and felt there was a lot of confidence and very supportive energy. I knew we could keep going at that point and make a run in the fourth quarter and going to come down to a one or two possession game."
River Dell continued to apply pressure early in the fourth quarter. Ari Rodriguez buried a trifecta, and Morgan Sconza's pull-up jumper on a transition play increased the Golden Hawk's run to 10-0.
However, Old Tappan managed to stem the tide in this heavyweight battle thanks to Maya Giordano dominating in the paint and low post as Giordano scored ten second-half points, including five in the final frame. River Dell lost their top scorer Sofia Sanchez as she fouled out of the game with less than three minutes left. Sanchez held to three points in the game.
Lily Crowder picked up where she left off in the third dropping eight points as River Dell trimmed the Golden Knight's lead to 46-44 with less than two minutes remaining.
Lizzy Puentes on the fourth quarter, "It was a battle but it's nothing we didn't expect and tough game. The encouragement from the bench and support from our teammates on and off the court motivated us to lock and cheer for each other and put one percent in more effort our coach (Lindsay Steffner) asked us going into this game."
The Golden Hawks trailed 48-45 with less than ten seconds to go when an attempted jump in the paint hit the backboard forcing the team to foul. Old Tappan's Maya Giordano knocked down one of two free throws that sealed the Golden Knight's victory, thus ending River Dell's 2022-23 season. Lily Crowder poured in a game-high 18 points, while Lizzy Puentes totaled 12.
"We wanted to try to get the ball inside and draw a high percentage shot and stop the clock quickly and foul another player, River Dell Head Coach Lindsay Steffner cited. I was hoping to get another three-point play the way Lily was scoring inside and playing well. Lizzy had the drive and a decent shot and potentially a foul and with one whistle could have been a different ball game."
"I'm proud of the what the girls were able to do in an away gym and big environment and sure there were a lot of nerves. Everyone wants to perform at their best and if that's the way we ended our season I'm okay with you see how we started the season and ended we made a lot of big improvements. There was a lot of growth, they learned the game and understood the scouting report and how to play with each other. Those 13 seniors had a great career."
Lily Crowder, on the season-ending, "I feel proud of everything we've done because I have been on varsity for four years and got to experience all the of the accomplishments we've come through. Freshman year was the first time we won the league in a long time and great experience. Going into COVID was hard but we still won the league title ; junior year we lost a tough game in the states but had some amazing wins. Losing three varsity starters and a first-team all-county player wasn't easy but we were able to come together and come on strong."
"Having big crowds was a key to helping us play our game and cheering us on and getting the momentum up. It was great to have our parents and friends and support from the community. Coach Steffner is a great developmental coach and does a great job of getting our schedules out there. A lot of people look up to us and the kids come out to our camps and games and special to be a part of and it's just an amazing program."
Lizzy Puentes, on the final game of the year, "This was my first year on varsity and a big transition. I was worried going into the season, but if you look at the improvement from the first couple of games to the last couple we put the pieces together and had great chemistry."
"There's a lot of responsibility with our black and gold logo, but as long as we did what Coach Steffner asked us to do to work as hard as we can, stay focused, and improve ourselves every day. We fed off each other's energy and learned to improve daily. All three of our coaches, Coach (Emily)Sullivan, Coach (Charlie)Weinfield, and Coach Steffner, are all great role models for us, and I'm grateful to have all played under them and taught me things in basketball that are just more than a sport and carry with me for a while.
"I'm grateful for the being able to play on this team and all these girls I've been with. We're not just the team but family because we spend so much time together on and off the court. After every practice and game and we could spend two hours on a bus we want to get food and that's great and I love these girls. I'm so sad I won't see them every day, but we'll stay friends and that's the great thing about this program."
River Dell Head Coach Lindsay Steffner, on the support from the administration and athletic departments and assistant coaches and coaching basketball,
"This is just not about 16 players and starts at the top with the superintendent (Patrick J. Fletcher) that completely supports us and is at the games and principal(Brian Pepe) at every game and high fiving and telling the girls great job and doing announcement during the season the season to tell how proud he is of them. It's an athletic director(Denis Nelson), one of the best out there in New Jersey and doing whatever we need to do to schedule games and analyze the Power Points."
"I have two great assistant coaches that have developed nice relationships with the girls. There's a lot of basketball knowledge with them but a good friendship with questioning certain things and calls and provide me with information. Charlie (Weinfeld) is a phenomenal coach and the girls like and respect him a lot. He's got a wealth of knowledge and loves watching basketball and I run a lot of things by him."
"Coach (Emily)Sullivan is a sweetheart and extremely knowledgeable and the girls respect her. She's the good and bad cop and between all of us and the girls have someone they can go to and talk with and a good person."
"It's a rewarding position and had such a great experience at River Dell playing and had phenomenal coaches. I had the support of community and to be coaching on the sidelines is a dream come true and not an easy thing."
"These days there's a lot more preparation for each game, understanding scouting reports and watching film. Behind the scenes it has challenges being a mom of two little girls and some schedule issues to figure out along the way, but I would never trade this experience for the world. This is a lot of fun and to go have my dream job as a health and physical education teacher and then to able to coach is what I want and to be able to give back to the community is very powerful."